They released the Camon 18 series on time for the sale.
You know, we missed out on an opportunity to get the Camon 18 and 18 Premier during the first few seconds of the 11.11 sale by Tecno, since they were offering the Tecno Camon 18 and 18 Premier FOR FREE during those few seconds, and for the first three buyers only. Shipping, of course, is still on you.
However, for those who have missed it, you can still get these two phones at a discount. Even better, the discount sales last three more days after the initial 11.11 sales, so if you're looking for Tecno products under a discount then it's the best time to buy. On Lazada, Tecno is offering discounts up to Php500. Of course, be wary of shop vouchers as well as free shipping vouchers at checkout.
Lazada Deals:
Tecno Camon 18 (6/128)- Php 9,499 (Php 8,999 discount price)
Tecno Camon 18 Premier (8/256)- Php 15,990
Tecno Camon 17P (4/128)- Php 8,490 (Php 8,290 discount price)
Tecno Pova 2 (6/128)- Php 7,990 (Php 7,590 discount price, only during 12MN-2:00AM)
Tecno Spark 7 Pro (6/256)- Php 6,590 (Php 6,290 discount price, only during 12MN-2:00AM)
Tecno Spark 6 Go (2/32)- Php 4,299 (Php 3,999 discount price)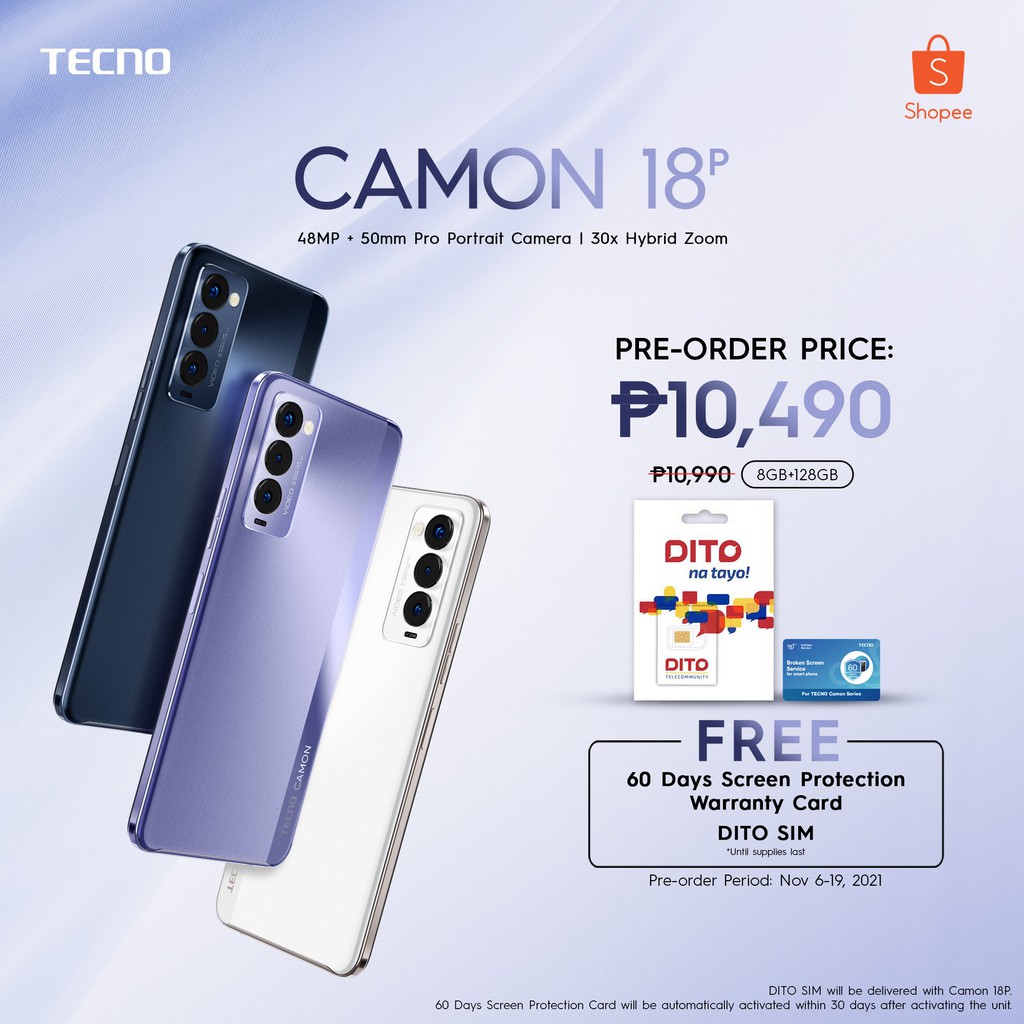 In addition, on Shopee, the Camon 18P (8/128) is under its pre-order stage. This comes with a free DITO SIM Card and 60 days Screen Protection warranty card. The price is discounted by Php500 as well. From Php10,990 down to just Php10,490.
In Shopee, select Tecno products are down up to 40% in discount. This lasts until November 14th as well. The Spark 7 Pro (6/64) is discounted to Php 6,090 (from 6,290) during this time, until 11:59PM today.
You can avail these promos and more on Tecno's Lazada and Shopee.