ONBUFF PARTNERS WITH MYSTEN LABS TO BRING IP TO WEB3
2023-03-21T18:00:00Z

Onbuff to Onboard Suite of Gaming and NFT Partnerships onto Sui Will Launch Exclusive Web3 Version of SNK's SAMURAI SHODOWN: the Legend of the Light moon

PALO ALTO, CA, March 21, 2023 (GLOBE NEWSWIRE) -- Mysten Labs, a web3 infrastructure company and initial developer of the Sui Layer 1 blockchain, today announced a strategic partnership with Onbuff, a Web3 platform that helps bring leading gaming and NFT IPs to the blockchain. Through this partnership, Onbuff will work with leading gaming and NFT developers – including SNK, Gravity, and Pororo - to bring their projects to Sui.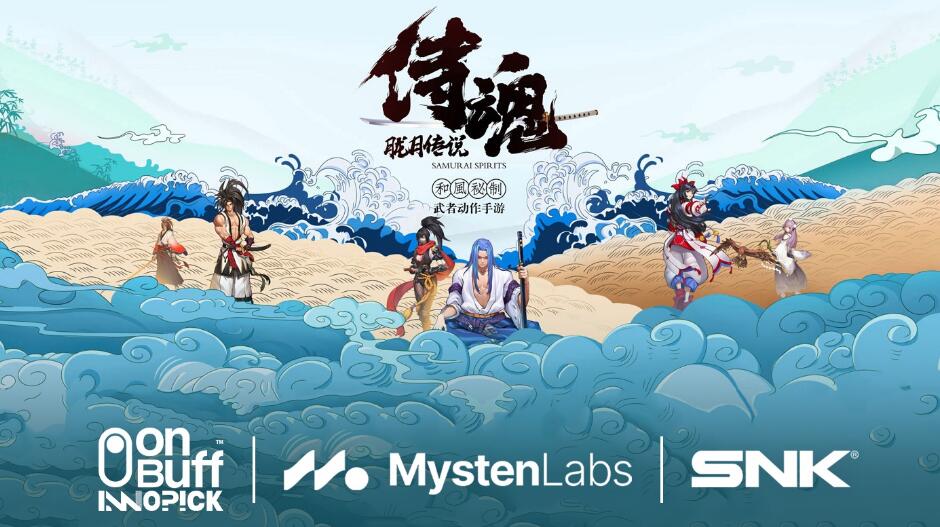 Onbuff was built to help gaming developers and producers effectively adapt their products on the blockchain. Onbuff's mission is to enable gaming and NFT developers to explore new waters, reach wider audiences, and realize their potential, while introducing innovative versions of the most exciting Web2 games to the Web3 gaming space. Onbuff has developed unparalleled partnerships with leading gaming companies including Gravity's flagship IP Ragnarok, Pororo's NFTs and metaverse land, and more.
Onbuff will leverage the Sui network to help onboard its partnering gaming firms onto the blockchain, including its latest partner, storied Japanese gaming company SNK. SNK will bring world-renowned titles to Sui's blockchain, including the exclusive Web3 version of "SAMURAI SHODOWN: the legend of the light moon" Onbuff will also utilize Sui's scalable technology to build out its new INNO platform, a blockchain content platform that enables users to enjoy play-to-earn games, swap game points and tokens, manage their wallets, and purchase NFTs, all on one platform. The platform has already exceeded one million pre-registrants.

"Blockchain technology has the potential to revolutionize the potential of the entire gaming industry. However, in order to reach this potential, gaming studios must fully understand how Web3 can help scale their games," said Richard Yi, Chief Executive Officer of Onbuff. "Onbuff's unmatched expertise in Web3 innovation, combined with Sui's dynamic, composable, and scalable Web3 gaming and NFT infrastructure and technology, will help deliver on this mission and unlock the endless possibilities in this space. We are thrilled to announce this partnership and can't wait to introduce some of the most iconic games and NFTs to the digital asset ecosystem."
Mysten Labs was launched in 2021 by former executives of Meta's Novi Research and lead architects of the Diem blockchain and Move programming language. The company is helping develop Sui, a decentralized, delegated-proof-of-stake blockchain that builds on important innovations in consensus algorithms and leverages novel data structures to deliver a high-performance, low-cost Layer 1.
"Onbuff has built an incredible platform that enables gaming and NFT developers to expand their reach into the Web3 space, and the Web3 community to enjoy some of the most acclaimed titles like never before," said Evan Cheng, Co-Founder and Chief Executive Officer of Mysten Labs. "We are particularly excited at the prospect of Onbuff introducing Web3 gamers to legendary titles."
About Onbuff
Onbuff is announcing WEB 3.0 content using global IPs such as SNK, Gravity, and Pororo, and the Gravity Labyrinth game, which was released with the official launch of the INNO platform last year, recorded 1 million pre-registrations. It is a project that is growing rapidly, reaching the 2nd place in Thailand and 3rd place in the Philippines in the Apple App Store sales rankings, and setting the metric of recording the 1st place in the Philippine Google Play Store's new popular game rankings.
As the first project of this partnership, SNK's SAMURAI SHODOWN: the legend of the light moon is scheduled to be released this year based on the Sui mainnet, and Onbuff recently signed a contract with SNK to commercialize the title's WEB 3.
About Mysten Labs
Mysten Labs is a team of leading distributed systems, programming languages, and cryptography experts whose founders were senior executives of Meta's Novi Research and lead architects of the Diem blockchain and Move programming language. The mission of Mysten Labs is to create foundational infrastructure for Web3.
Learn more: https://mystenlabs.com

Contacts
For Onbuff:
Email : contact@onbuff.com
Contact Person : Kevin
Country: Korea
Twitter : @onbuffchain
Website: onbuff.com
For Mysten Labs: 
Email : MystenLabs@gasthalter.com
Contact Person : Carissa Felger/Sam CohenGasthalter & Co.
Website: https://mystenlabs.com

Website: https://mystenlabs.com

CONTACT: Kevin Kim

Onbuff

contact at onbuff.com

Articles from GlobeNewswire